Big Ten News
Subscribe to posts
Great speech on behalf of players at the B1G TEN kickoff luncheon by Michigan State's QB Kirk Cousins.  
Check it out.
http://espn.go.com/espn/story/_/id/6783415/rick-reilly-nebraska-big-ten-primer
Hello, Nebraska!
Now that you're joining the 12-team Big Ten, nothing is going to make sense anymore. I know it doesn't for me. Growing up as a Colorado Buffs fan, we were taught that if Nebraska was playing Libya, we should be there with a giant poster of Moammar Gaddafi.
So why do we feel this weird need to help you switch over?
Because your state gave us Johnny Carson and Larry the Cable Guy. Besides, you kicked our butts to the state line every year and we're frankly glad to see you go.
You are joining one of the great football traditions in America, a fabric woven with sturdy football, passionate fans and the time-honored institution of selling your jerseys for tattoos.
So here you go, Nebraska. Let us help you get the lay of the Heartland.
Your new rival -- Forget Oklahoma. Now it's Iowa, like it or not. You close out your regular season with the Hawkeyes on the day after Thanksgiving at home. Iowa's a natural for you. Both your states are so flat you can watch a train pull out for three days.
Football-wise, Iowa has been better than you lately, but you're 26-12-3 against the Hawkeyes overall, plus your football lore gives their lore an atomic wedgie (Nebraska: three full national championships and two half ones; Iowa: one-half of a national championship). All in all, it ought to be a big game every year. Got a name for it, too. The Cornfrontation.
Academics -- I wouldn't bring this up at meetings, Nebraska. Until you joined, the Big Ten was the only Division I conference to have all its members in the prestigious Association of American Universities, which selects only the finest research and academic institutions in America. Sad how some people don't see the value in your night crawler research. Ah, well, when's the last time a bunch of lab geeks put 85,000 fannies in a stadium, am I right?
Dress code -- Now that Jim Tressel and The Vest are gone from Ohio State, there is no dress code. Your lunatic screamer of a head coach, Bo Pelini -- the man who could be an entire season of "What Not to Wear" -- is going to fit in nicely. Your fans aren't exactly ripped from the Armani catalog, either. Oy, that Sea of Red some of you wear: red socks, red overalls, red cowboy hats. Goes nice with your necks, though.
And since nobody travels better than Nebraska -- remember the time you went to South Bend? -- all that red is going to wash into Big Ten stadiums and they're going to wish you were all Big Dead.
Divisions -- The Big Ten is divided into two divisions: Legends and Leaders. Yes, these are incredibly anvil-brained names for divisions, but you should have seen the stuff that lost out:
Second -- Princes and Potentates
Third -- Behemoths and Brutes
Fourth -- Cheats and Soon-to-be-caught Cheats
You will be in the Legends division, along with Michigan and Iowa and a bunch of Twinkies. But you're going to end up playing everybody, so let me give you the thumbnail on all of them (in order of how you'll grow to hate them):
MICHIGAN
There is a thing you'll discover called The Michigan Man. The Michigan Man believes he is above Normal Man. The Michigan Man is certain he invented the Big Ten, along with intellect, cocktails and sex. The Michigan Man is full of pride in himself and his Michigan degree -- so much so that you're going to want to bring a throw-up bowl along with you.
Sadly, the Michigan Man has had to reduce the volume a little lately, having not beaten The Ohio State Man since the debut of the Edsel.
Michigan has arguably the grandest stadium in college football. The Big House is the largest in the United States -- holding 109,901 -- and yet they still sell out 102 percent of the seats. Can you imagine? They have very cool helmets that have nothing to do with their nickname, the Wolverines, which is about as indigenous to Michigan as the fairy penguin. They're talking about having a mascot, though, which is going to ruin everything.
Anyway, Michigan runs things. It's the Dean Wormer of the Big Ten. It's fun to mess with Michigan.
OHIO STATE
You're coming to the Big Ten at a lucky time, Nebraska. Ohio State has been the king, but if the king is not dead, it's on one knee and searching around for its mouthpiece. Buckeyes fans are usually very nice people, but all this vacating of wins has caused them to vacate their manners. They harassed Golden Boy QB and ESPN announcer Kirk Herbstreit into moving to Nashville and they sent death threats to the college newspaper sports editor over Tressel. Remind me, what did those guys sell?
Your Cornhuskers and coach Bo Weevil have a chance to come in early and corn-slap some people.
WISCONSIN
You're going to love coming to Madison, until kickoff. Put it this way, a weekend in Madison is going to beat the bejesus out of going to Ames, Manhattan or Stillwater. Great town, fun fans, delicious brats.
The problem is, Wisconsin has even bigger and stronger linemen than you do. Do you realize that the last lineman you had taken in the first round of the NFL draft was 27 years ago? Dean Steinkuhler? The Badgers have had five in that time!
I'm afraid Wisconsin is you, Nebraska, only with much better parties and more wins.
PENN STATE
Fun facts for you to tell when you visit Happy Valley on Nov. 12:
Q: If they are the Nittany Lions, why do they play in Beaver Stadium?
A: It's named after James Beaver, former Pennsylvania governor.
Q: Why do Penn State players wear black shoes?
A: Reportedly, coach Joe Paterno believes it makes his players look slower, which is not true. Bowl games do.
Q: How is the health of the 84-year-old Paterno?
A: His ears still hurt a little from The Big Bang.
MICHIGAN STATE
If you want to get under their skin, just go up to Michigan State fans wearing Spartans jerseys and say, "Oh, couldn't get into Michigan, huh?"
Then duck.
NORTHWESTERN
You will see a few people in purple shirts with a stupid cat logo on them. You do NOT have to worry about them. But be nice to their students. A lot of them end up running big media companies. The Wildcats found a really good coach in Pat Fitzgerald, though. He's hot property. Get his email ready for when Pelini rips off a referee's arm and eats it.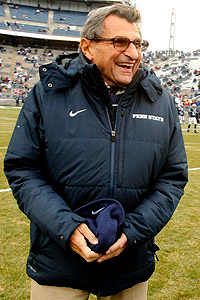 AP Photo/Gene J. PuskarJoe Paterno may still be smiling after his Penn State team plays Nebraska Nov. 12 in Happy Valley.
ILLINOIS
You draw more for your spring game than the Illini do for regular-season ones. I'm not kidding. You drew 66,784 for your spring game this year. The Illini didn't even average that for home games last year.
INDIANA
Just awful. Being a football fan in Indiana is like being a scuba fan in Tibet. There's no point. The "I" on the Hoosiers' helmets is for the number of games they win every year.
PURDUE
It's hard to hate Purdue. You get to watch the little train that runs around. You get to watch the Boilermaker mascot get in fights. And you get to watch Purdue throw the football like crazy and still lose 56-35. Great fun.
MINNESOTA
The Gophers are in your Legends division. The only thing they're legendary for is losing. You'll love them.
As for you, Nebraska, the Big Ten is really going to take an instant dislike to you. Why? Saves time.
Yes, you're relatively nice people. You never swear. You're devoted fans. But you represent a real threat. You could win a few titles someday and they aren't going to like it.
Also, those games at Memorial Stadium with the freezing rain and the howling wind and nothing around for 100 miles to hide behind but corn stalks? They're not fun. Put it this way: You're going to have LOTS of visiting team tickets to re-sell.
You know what might impress them, though? Your bowl record. You're 24-23 all time. You better knock that crap off.
In the Big Ten, that's just showing off.
Pretty strong Bucky video.  
Some clown tackles Brutus.  Pretty funny but nobody should mess with Big Ten, let alone their mascots.